Here we are 3 weeks into the NFL season and it appears to be the year of the bust. Not a lot of production from the consensus top 36 players for the most part. We have Twitter wars happening between Robust RB truthers and Zero RB believers. Dogs and cats are living together! It's mass hysteria!!!
Let's all take a deep breath and count to 5.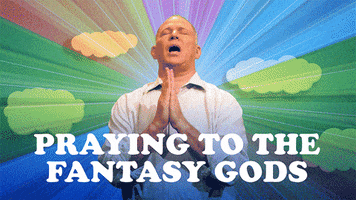 Alright, now that we have calmed down from the chaos of 2022 and the nuclear bomb that hit most people's lineups in redraft and DFS in week 3 here are some tips on how to potentially navigate to success.
First off, it's not you, it's me and it's everyone's lineups! Fantasy scoring as a whole is down 12% through the first 3 weeks compared to 2021. Yes, there were some misses by everyone and some hits by some. For the majority of us out there in redraft or even best ball land, we definitely have disappointments on our rosters and I have seen panic drops after week 3. The worst example is the mass exodus of DJ Moore and people dropping him after 3 weeks of sucking. This would be an overreaction. This leads me to my first point...
Don't panic drop or trade 
It has been 3 weeks only and a lot can change in 3 weeks. Remember 3 weeks ago when you thought (insert name here) was going to be a top 5 RB or top 5 WR? They still can because we haven't seen adjustments to rosters, playcalling, or coaching yet. A lot of teams have been known to do this after the first quarter of the season when they really analyze what they have done well, missed, and sucked at. A lot of this down production is also because there have been a lot of changes across the league. Teammates have to get used to each other and defenses do tend to historically dominate the first month of the season and once there is more film on schemes some of the best offenses can start to take advantage of this.
Don't panic yet on some players. To name a few I am not worried about yet that you probably spent high draft capital on as of week 3:
The second point also reflects on this...
Panic on some players
Sounds hypocritical, but some players you can see are in a bad situation or just don't look good because of age, injuries, competition, or coaching. The best example of this is James Conner. He already has a minor injury, the coaching and scheme look bad this year, and he may be part of an ambiguous backfield with Darrell Williams and Eno Benjamin slowly taking more snaps from him as the season goes on. When you start seeing red flags like this it is time to sell the player and move on if you can.
Some players I am trading for cheaper than expected after draft season:
Another key to success throughout the season is...
Keep ahead on the waiver wire
I tend to look ahead an extra week or two and favor younger players that maybe frustrated managers drop way too early to stash on the bench. We are through week 3 and I am looking for rookies mostly that have had snap percentage rise in the last week. By grabbing a dropped James Cook last week you saw this week he got more work in a competitive game with receiving. Signs like this are green lights to add to your bench. You are looking for situations that could turn into starters come weeks 10 or later. You don't want to grab a Mack Hollins to spot start or hold for a week. The upside is the key for the bench stash on winning teams. 
Stashes I like for week 3 to hold through week 6:
Everyone just breathes. Take a good hard look at the waiver wire and look for young players that have starter upside near the end of the fantasy season or sooner. Sell anyone that you aren't happy with, but for a fair price. 
Now go win week 4 and turn this season around!
Join the Discussion
jamisdiablo CommentedSep 27, 2022 11:06 pm
All great advice. Jeff mans had an interesting take on starting dual RBs in many situations to just lock-in your RBs and focus elsewhere if you can, esp in PPR leagues. Rationale: not many bell cow backs anymore and trying to guess which back in a dual back committee is very hard. Even King Henry won't win you a title anymore. I laughed cause I have zeke and pollard on my bench. Started cordarelle and Kamara. Guess which got more points? lol
jamisdiablo CommentedSep 27, 2022 11:08 pm
That said I might try it kamara keeps stinking it up. I think he's hurt and his Qb doesn't do dump offs for some reason. Also, I do think JM knows a thing or two.
steve margolis CommentedOct 1, 2022 3:04 pm
James Conner is someone you are panicking over and also trading for? Please advise.
---